Algorithmic Sciences, Software Engineering Dept.
EMEA region,
Africa
Dear Software Engineer,
Welcome to the page describing the HR procedures of Algorithmic Sciences, Africa. We are excited to move forward with your recruitment process.
You will find useful information on the page below, including information on what kind of requirements the work entails, and what kind of trajectories do candidates take to get an offer from us.
If you would like to work for our company, please read this page carefully.
What is Algorithmic Sciences, and what does it stand for?
Seeing our value statement, you can see that our company defines a very specific environment for its team. Being perfectly meritocratic, pragmatic, and always valuing intelligent scientific debate and evidence over any other argument - we can legitimately compare the culture of our organization to some of the top educational institutions in the world.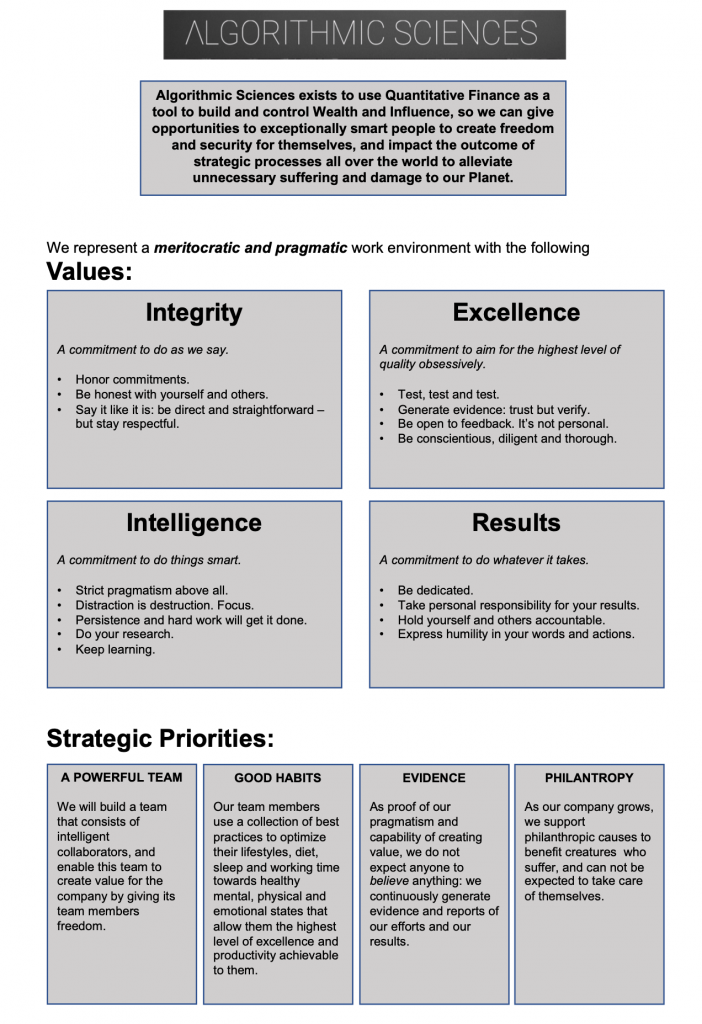 Because of that, Software Engineering roles at Algorithmic Sciences requires a bit of an "OCD" perfectionist attitude. We have a heavy workload a significant amount of advanced software engineering tasks in Python and C / C++. We do not hire data scientists, and we do not do machine-learning or data science-related work - we are looking for experienced software engineers.
The job requires a minimum of 40 working hours/week with a minimum of 40% activity levels tracked via a screen tracking application. If you do not have enough (at least 3-4 years) of software engineering experience in a professional setting, if you do not know C or C++, and you do not have absolute confidence in being able to pass a technical interview about Python, then please discontinue your application.
Beside the heavy workload and the demanding work environment, we can say that the work itself is quite challenging and rewarding at the same time: when we see you work hard, focus well, and deliver precision, we take good care of you and can offer a very stable long-term job at our company.
What are the assessment trajectories candidates take to get an offer from us?
You can find the trajectories of working for us in the following diagram: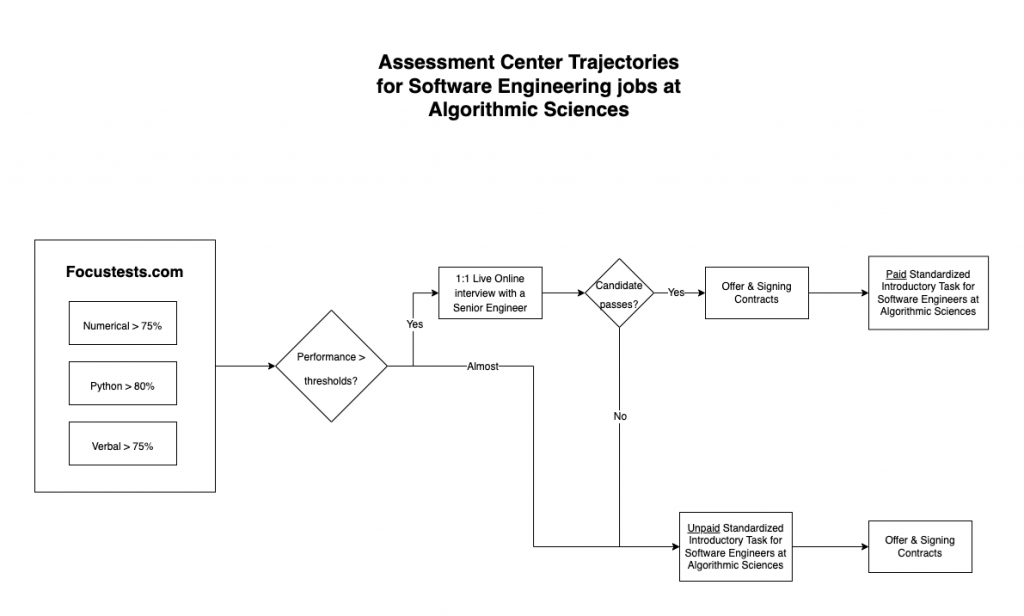 This should give you an idea about the rounds of interviews you will need to pass in order for us to make you an offer. You will see that if you fail the tests in the online assessment center, you might still get an offer to show us what you can do as a software engineer - if we see that you put in some real effort during the testing process... So it's really worth giving it your best. If we see you not take the tests seriously, you will not be offered the chance of continuing your assessment.
How much does the job pay?
As an experiment - successful so far -, we are looking to give more opportunities to people in Africa, so we are looking to offer salary levels that allow us to give an opportunity to more people. The current salary requirements for the average python developer in Africa can be anywhere between $500 and $1100 / month depending on experience and also depending on the results of the tests below. It's not impossible to make more, but first we will ask you to pass a trial period with us so we can get to know you. Please only continue with your application if you accept these terms.
Where can I take the first assessment?
To take the test you will need to visit http://focustests.com and register with your real name exactly the way you provided it, and your e-mail address.
The tests will require a token - if you applied for a job with us, you should also have received a one-time token in email.
This will allow you to register once and take the tests, any time within 168 hours from receiving it. Use your real name when registering.
What are these tests like?
There are 3 tests in total on focustests.com. Their lengths are 60 minutes each. The numerical and verbal skills tests are meant to test your analytical skills, and your ability to focus for an extended period of time. The python test will require an advanced knowledge of professional software engineering in Python.
The results of the tests are directly correlated with the salary offer you'll receive from this company.
Important: You have the best chance of doing well on these tests when you are in a fresh, and calm state of mind. You will need to try hard to score on them.
If you want to show us your best performance, we advise you not to attempt the 3 tests on the same day. Focus, prepare, and give us your best energy and mental focus - and you might be rewarded for it.
There is an example question for each test when you click "Start". The clock only starts after you press "Continue".
Please make sure you have a stable and reliable internet connection when you're taking the test. If you have an interruption in your connection, then please know that the "countdown timer" is going to be out of sync by the exact amount of time that you have been disconnected, and the test is going to submit automatically before the countdown timer in your browser reaches 0.
What to do after taking the tests?
After you take the test, it's very important that you send us an email, otherwise, we won't get notified of your score. When you do that, please do not forget to attach your CV, as a confirmation that you would like to continue your application understanding the above. Please use the "Reply" function in your email client and do not change the subject line of your email, so we can keep everything under the same thread.
We wish you the best of luck with the application process, and hope to work with you for a long time!